About the K-Drill Ice Auger
K-Drill uses a unique three-blade high carbon steel chipper design which chews through both fresh ice and old frozen holes. The K-Drill is the Lightest and Easiest Ice Auger System Ever Developed and the ONLY Auger System Specifically Designed for Cordless Electric Drills!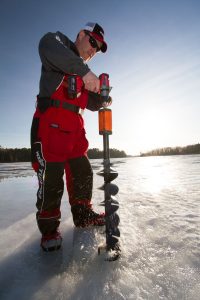 The sturdy aluminum constructed Auger Shaft with thermal wrap helps keep hands warm. Extensions are available too. K-Drill requires a 1/2" drill. The auger is adaptable for attachment to certain gas auger heads.
There is a quick and easy Safety Cover for the three-blade system to prevent both serious injury and keep your blades sharp. The Foam Float ensures the ice auger does not sink if it falls out of the drill chuck.
K-Drill Comes in 6", 7.5", and 8.5" models and uses a durable modular plastic fighting designed to clear ice shards quickly and keep them near the hole.
Plus, send your blades to us for FREE Blade Re-Sharpening! Click here for details!
K-Drill Specs
Weight: 5 Lbs
Length: 

39"

Flighting

 Length: 24"

Drive Stem

 Diameter: 1/2"
Cutting Diameter: 

6.0" / 7.5" / 8.5"

Float Length: 

7.5"

Float Diameter: 

3.5"

Shaft Diameter: 

1.38"

Made in the USA